Finally look forward to HIKARI release new technology ,new products! At the afternoon of September 24th, HIKARI released many new technologies and products in Pudong, Shanghai.
HIKARI create micro-tension overlock sewing machine ,Model: 801A
HIKARI first create computer direct-drive intelligent super-high speed overlock sewing machine, model :801A, and the first micro-tension technology principle was used to design the world's first micro-tension overlock sewing machine. This is the HIKARI third world No.1 products which first create by Hikari ! This is a disruptive technology, completely solve the sewing problem that "a series of line trace is not nice, easy to thread break, jump thread, stitch shrink when pass the over seam area, thin & thick material sewing process need frequent adjustment".
HSAT-K2 HIKARI first creative automatic hemming" Non-Operator workstation"
This is a significant breakthrough frontier technical new product will lead the industry technology development to less or even production without man` operation.
HIKARI create the data digital plant technology based on the IOT technology
This technology includes system architecture, device interconnection, parameter configuration, real-time monitoring, remote operation and maintenance, open platform, and data analysis, realizing the mastery of big data and creating an information technology framework for the future digital factory to realize the form of Internet of things.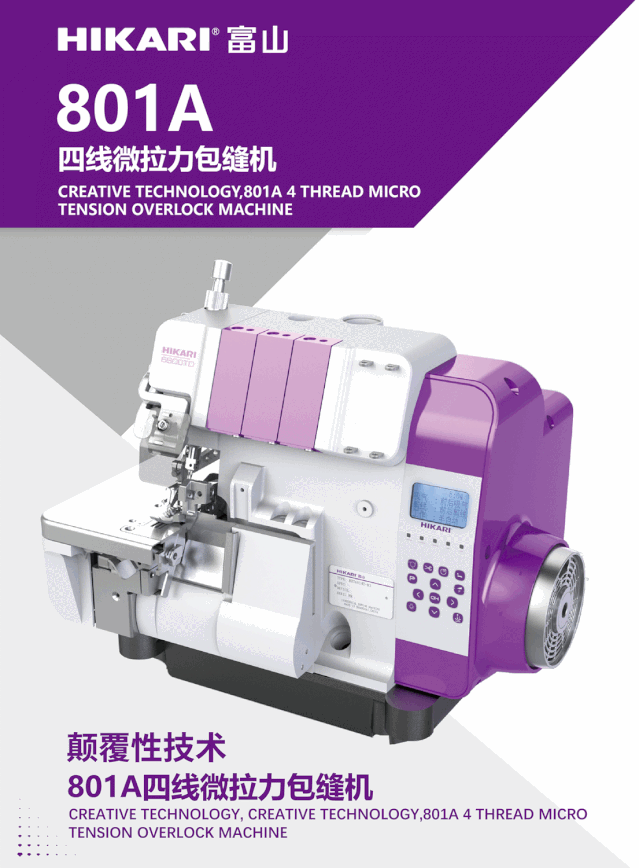 Many innovative technology, let the sewing become more relaxed and beautiful
HIKARI launched a series of products integrating new technologies ,In this exhibition, the new products displayed by HIKARI on CISMA for the first time reach for 65%. Includes A series advanced products for knitted, woven products ,and 9 sets the sports knitting automatic equipment (HSAT - K1 - auto circle hemming machine , HSAT - K2 automatic open slip hemming non-operator work station. HSAT - K4 automatic (knitting, woven pocket setter machine, HSAT - K5 Automatic elastic jointing machine, HSAT - K7 Automatic rolling stripes machine( Design for Adidas), HAST - K9-1 automatic neck rib machine, HAST K9-1 A new version neck rib machine, HAST - K10/ Automatic waist cover stitch machine. HAST - K11 automatic waist elastic joint machine.
HIKARI strives to push the global garment industry towards digitalization, automation, intelligence, minimization and even unmanned whole-factory production plans through a series of advanced products with new technologies and automation.